Contact and directions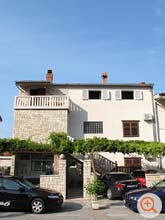 Aparment Drvis – our house seen from the street.
Contact apartment Drvis Makarska Croatia
Sonja und Lovre Drviš
Kralja Petra Krešimira IV. 53
21300 Makarska
Kroatien
Tel.-No.: ++385 (0)21 612 301
email: ssonjad@net.hr
bank account:
Lovre Drvis
Zagrebacka Banka
IBAN HR: 3023600003113783638
BIC: ZABAHR2X
Directions to Makarska
The easiest way to get to Makarska is via the International
Airport Split. During the season a variety of coaches offer to
bring the arriving tourists from the airport to many of the hotels
of the Makarska Riviera. Just ask for a coach going to Makarska.
You'll be helped right away. The price for the ride is about 15 € (2009) per person.
If you're coming by car, you'll be able to use the new highway. Directions will follow shortly.
A map of the area will follow shortly
Responsible for the internet site:
Dirk Scharwächter
email: e-post@ferienwohnung-makarska.de