Holiday homes in Makarska with a view of the Adriadic Sea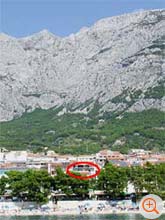 holiday homes in Makarska with a view of the Adriadic Sea
Wonderful holidays at the Makarska Riviera
The private holiday homes of the Drvis family are located directly next to the beach. Walking distance from the holiday homes to the Adriatic Sea is only 50 metres.

All holiday homes are equipped with a shower, air conditioning, kitchen resp. kitchenette and satellite TV. Three of the holiday homes have a balcony with a view of the Adriatic Sea. There are three 2-bedroom and one 4-bedroom holiday homes available.
contact
: Sonja Drvis
e-mail
:
ssonjad@net.hr
Makarka at the Adriadic Coast
The Makarska Riviera at the Croation Adriadic Coast is named after the city of Makarska. It is a coastal region between Split and Dubrovnik at the Adriadic Sea.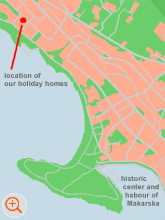 map of Makarska with location of our holiday homes
Makarska is a historic town with about 14.000 inhabitants. A beautiful historic center and a promenade invite you to long walks.
Above Makarska lie the Biokovo mountains which are part of the Biokovo Natural Preserve. Its highest peak is the Sveti Jure with 1,762 metres. There are several marked hiking trails inviting you to long hikes with a view of the Adriadic Sea or the back-country.
Of course, Makarska also offers all kinds of free time activities that belong to a wonderful holiday. Whether you are looking for a quite beach holiday or active vacations - the Makarska Riviera certainly has the right thing for you.